The School of Nursing has long been active in service learning. This past fall, students in Curtis and Jennifer Bow's Alternatives in Neuropsychology Practicum and Health of the Community Practicum courses contributed 85 hours of service in New York city, Washington DC, Belize and Eaton, OH, leading to a remarkable total of 94,184 interactions. To gain such an impressive number, they served meals, offered health advice, led education sessions and provided flu shots and vitamins.
All of the service projects involved were connected with various neighborhood and community organizations who clearly benefited from the assistance of IU East students. For instance, students in the Health of the Community class, who traveled to Roaring Creek, Belize, were able to provide vitamin supplements to infants and children, 203 applications of de-worming medication, beans and rice for 100 families, 11 ultrasound screenings and clothing through their partnership with Body & Soul Ministries. This project alone led to over 22,000 interactions between students and the Roaring Creek community. Other important partnerships include the ABC School at Echo Park, NY, a high risk preschool in Harlem (teaching 120 children about germs) and (Washington) DC Central Kitchen, where IU East students helped prepare meals for 5000 homeless people.
Locally, also, IU East nursing students had a positive impact. Through the New Hope United Methodist Church in Eaton, OH, students in the Alternatives in Neuropsychology class served 100 meals, educated 18 people on blood pressure and helped raise $193 for the local community. The money will go toward funding for the local homeless shelter and backpacks for 2nd graders. This project included nine students, who gave 45 hours of service in support of this project and amassed a total of 1496 interactions.
Students in nursing classes have expressed how important these projects are to their development as future nursing professionals. One student explained "I knew that I was going to encounter people that had a different lifestyle and way of thinking that my own. The whole purpose of this trip, for me, was to evaluate psychiatric patients as well as receive a more culturally diverse experience than I would have at the Richmond State Hospital. I knew that it would be a quicker environment with more people from different backgrounds, but going in with an open mind allowed for a better experience." Other students related personal interactions, such as talking with a patient who was told to follow a low sodium diet – yet the patient did not know what sodium was. These kinds of interactions help our students become more thoughtful, engaged medical professionals in the future.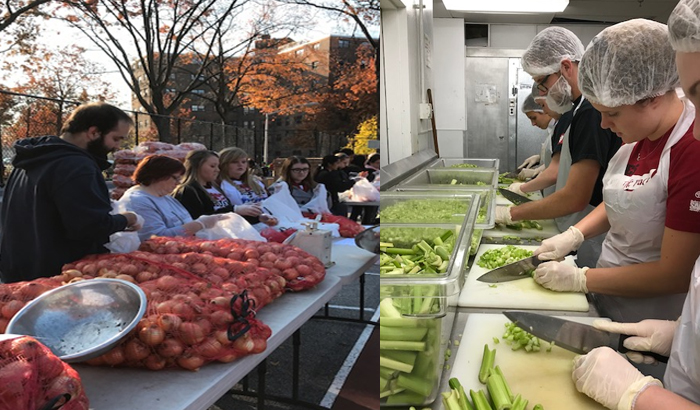 Jennifer Bow is adjunct faculty and Curtis O. Bow, Jr. is a lecturer in the Indiana University East School of Nursing. Service projects featuring Curtis and Jennifer Bow's classes are part of the History of Community Engagement at IU East and are featured in a new online exhibit: http://iueastlibrary.omeka.net/collections/show/12
Service engagement projects such as those undertaken by the School of Nursing stress the multidimensional aspects of learning. These activities give students the opportunity to reinforce their classroom learning with real-world examples in a manner both meaningful and transformative both to themselves and those that our students serve. We are proud of the work of the School of Nursing program and its faculty and students. Are you an IU East student, faculty or staff interested in community engagement? We'd love to talk with you about it! iueastsl@iue.edu