Dr. Rountree shares his experience at the Indiana University Libraries' Primary Source Immersion program.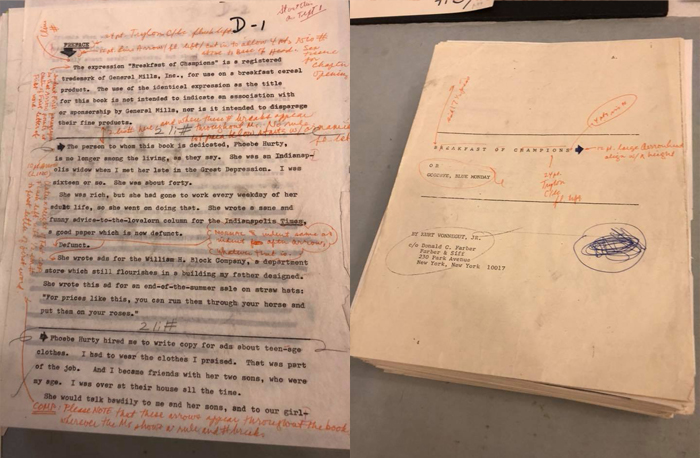 As I sat there next to Kurt Vonnegut's Breakfast of Champions typed manuscript with his editor's marks all over it, I knew that I was somewhere special. For a bibliophile like myself, it was amazing to be in the same room as this manuscript, Shakespeare's folios, and other historical artifacts in the Lilly Library Archives.  The Lilly was one of several archives that I visited and talked about at the Primary Source Immersion Program on the Indiana University Bloomington campus. In its second year, this program was an incredible experience that linked myself and several others from IU campuses to IU archives and archivists. Our purpose was to "create or revise undergraduate and graduate courses and assignments that integrate primary sources from one or more of IU's campus repositories." Through the program we explored the archives and shared the assignments that we developed together.
To plan my course, I visited the Kinsey Institute, the leading research institute on LGBTQ culture, and also talked with a contact from the IU South Bend LGBTQ archive. By having these conversations, I was able to plan my spring 2019 LGBTQ themed argumentative writing course. Working with our university archivist, my students will collect materials to build Richmond, Indiana's first LGBTQ archive to be housed on IU East's campus. In the course, students will not only collect these artifacts, but also analyze their use in the community. By the end of the course, students will construct a physical archive of these materials and have a digital explanation of each to be hosted on our library's website. In addition to this project, there will also be other events on campus that will include LGBTQ film viewings as well as a panel of local LGBTQ activists. These ideas came from my teaching at Louisville where I taught LGBTQ themed writing courses partnered with the University of Louisville's Williams-Nichols LGBT archives. In these courses, students analyzed certain artifacts from the collection and also engaged with the local Louisville community by volunteering for LGBTQ community events, such as Louisville Pride and other events organized through our nationally award-winning LGBT Center. I hope that creating these archives at IU East can have the same positive effect on our campus and the community as the courses that I taught in Louisville.
Because this was a huge undertaking, I would like to thank Meg Meiman, Dina Kellams, Maureen Maryanski, and Erika Dowell for their incredible support during the institute. I would also like to thank our own archivist, Beth South for her work with me during the institute. It's because of their hard work that my students will now see that the LGBTQ community in Richmond is not something that should be hidden or shamed, but a community that is rich in history and artifacts: a history that, like the tangible pieces in the Lilly, should be uncovered, displayed, and celebrated.
Travis A. Rountree is Writing Program Director and Assistant Professor at Indiana University East. He earned his PhD at the University of Louisville. Dr. Rountree teaches first year composition courses as well as online graduate courses in composition and rhetoric. His research interests include archival research, Appalachian rhetoric, place-based pedagogy, and public memory studies.
Any questions about IU East Archives? Ask Us! iueref@iue.edu