What is an important symbol that connects IU East old and new? Mascots! 2018 was the 10-year anniversary of the IU East Red Wolves mascot. And if you guessed that there have been TWO mascots in IU East's history, you would be correct. Both mascots reflect the spirit and current age of the campus: The Pioneers and The Red Wolves.
When IU East was established in 1971, we offered associate degrees and our athletes participated in club sports. We were briefly called "The Easterners" during our first basketball season in 1971, but in the fall of 1972, the campus held a "nickname the team" contest. Students and community members submitted names which were then voted on by a panel of judges consisting of IU East students, staff, and faculty. From more than 400 entries, five people submitted the name Pioneers for the reason that we were just starting out and that we were "pioneering in the field of education in Eastern Indiana."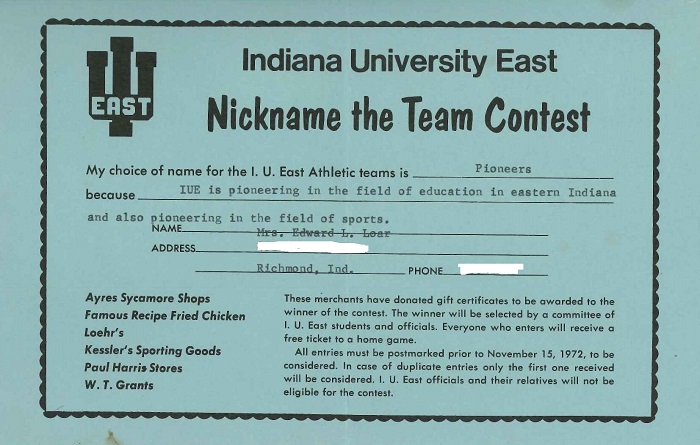 The name was announced on November 22, 1972 and we remained the Pioneers until 2007, when IU East transitioned fully to a bachelor's and master's degree granting campus and joined intercollegiate sports. At this time, IU East held another nomination process, receiving more than 165 mascot name suggestions. The list of names was narrowed down and this time public voting decided the finalist. On April 30th, 2008, IU East became the home of the Red Wolves. The Red Wolves was chosen because they "represent the spirit and energy of Indiana University East" and because of the wolves' pack mentality, "symbolic of IU East's family atmosphere and supportive environment." The name of our current mascot is Rufus the Red Wolf.
This brief history of our mascots is only a small piece of the IU East Campus story. Indiana University East will be 48 years old in 2019 and we have plenty of resources in the Archives that document the growth of our campus. You can explore the collections we have in the physical archives or view our digitized content, such as the Student Writing Journals or Course Bulletins, from the IU East Archives Libguide at http://iue.libguides.com/iuearchives. You can also contact archivist Beth South at eabrockm@iue.edu with any questions about the collections or using the archives.
Sources:
IU East teams to be called Pioneers. (1972, November 24). Palladium-Item, pp. 24.
IU East to unveil new mascot. (2008, April 29) Indiana University East Media Relations. Retrieved from http://www.iue.edu/mediarelations/iu-east-to-unveil-new-mascot/
IU East proudly announces Red Wolves as new mascot. (2008, April 30). Indiana University East Media Relations.  Retrieved from http://www.iue.edu/mediarelations/iu-east-proudly-announces-red-wolves-as-new-mascot/