The IU East Campus Library is here to support students in pursuit of academic success and faculty engaged in teaching and research. We provide databases and ebooks that can assist both students and faculty with their research. Inspired by the faculty who will be presenting at the 2nd Annual Faculty Scholarship Celebration on Friday, March 22nd  we wanted to share selected databases available through the library, that support these topics.
Denise Bullock presents "The (Un)Becoming Body: Management of Body/Gender/Identity for Trans, Gender Queer, and Gender Fluid Individuals." On topics related to gender and gender identity, check out the databases GenderWatch or Gender: Identity and Social Change.
GenderWatch is a repository of important historical perspectives on the evolution of the women's movement, men's studies, the transgender community and the changes in gender roles over the years. Publications include scholarly journals, magazines, newspapers, newsletters, regional publications, books and NGO, government and special reports.
Gender: Identity and Social Change is similar to Gender Watch although it focuses more on primary resources for the study of women's suffrage, the feminist movement, the men's movement, employment, education, the body, the family, and government and politics.
Parul Khurana presents "Cell Imaging by Confocal Laser Scanning Microscopy- Endless Possibilities." For cell imagining research, and other science related research, check out Wiley Online Library.
Wiley Online Library contains a mix of journals, reference works, and ebooks that focus on various subject areas, but is heavy on the sciences and their specialized areas, like cell and molecular biology, microbiology, physics, and organic chemistry. There are currently over 40,000 results related to cell imaging and confocal laser scanning microscopy alone.
Justin Carroll presents "Tshusick, an Ojibwa Woman, or There and Back Again, or an Empire of Liberty." For research related to Native Americans or Indigenous people, check out the databases American Indians Histories and Culture or Indigenous Peoples: North America.
American Indians Histories and Culture presents a unique insight into interactions between American Indians and Europeans from their earliest contact, continuing through the turbulence of the American Civil War, the on-going repercussions of government legislation, right up to the civil rights movement of the mid- to late-twentieth century.
Indigenous Peoples: North America is a database that allow users to explore the impact of invasion and colonization on Indigenous Peoples in North America, and the intersection of Indigenous and European histories and systems of knowledge through the use of manuscripts, monographs, newspapers, photographs, motion pictures, images of artwork, and more.
Daron Olson presents "Norwegians through Exile and Immigration." If you are looking for information regarding the immigration and settling of a particular group of people, then check out the North American Immigrant Letters & Diaries
North American Immigrant Letters & Diaries is a primary source database that includes personal narratives, oral histories, including those from Ellis Island, and images. Special indexes allow you to search by country of origin, occupation, date of immigration, reason for immigrating, political affiliations, and much more. There are over 463 documents related to Norwegian immigrants here in the United States and Canada.
Oi Lin Cheung presents "Giving Local and Regional Businesses a Leg Up." For information on small business practices, planning, and financing, the Small Business Resource Center by GALE has what you need.
Small Business Resource Center covers all aspects of starting and operating a business, including accounting, finance, human resources, management, marketing, tax, and more. It combines authoritative periodical and reference content to support prospective and current entrepreneurs as well as business students.
Jay Barbre presents "Social Foundations in Education: Where are we now?"
Lorna Timmerman presents "Promoting Growth Mindset in Students through Effective Feedback."
Ann Snider presents "Fostering a Positive Learning Classroom: Even at the University Level."
All three of these faculty are presenting in areas of education and, while ERIC is a popular education resources database from EBSCOHost, there is also Education Database by ProQuest.
Education Database supports research on the theory and practice of education across all levels of education, including early childhood education, primary and secondary education, and higher education.  It also covers literature on special education, home schooling, and adult education.
ERIC (Education Resource Information Center) is one of the largest databases containing nearly 750,000 full-text documents (and even more indexed) that include journal articles, books, conference papers, curriculum guides, dissertations and policy papers on all areas of education.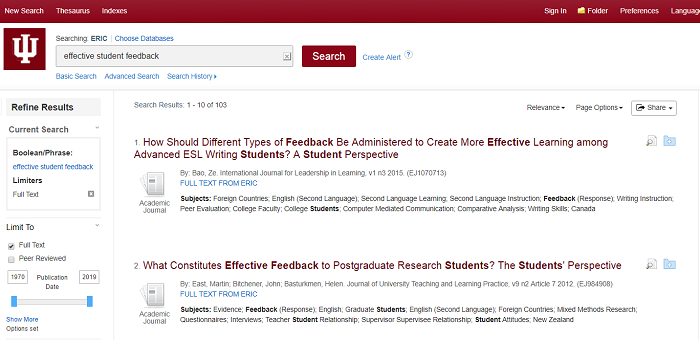 Jason Jelicka presents "The Music of Steve Reich." Whether you are researching contemporary composers, like Steve Reich, or classical composers, like Bach, or about a particular instrument, music era, or music related occupation, the Oxford Music Online or Music Periodicals Database are the databases for you.
Oxford Music Online home of Grove Music Online, the world's premier online music encyclopedia, offering comprehensive coverage of music, musicians, music-making, and music scholarship.
Music Periodicals Database covers a comprehensive range of subject areas in both scholarly and popular music journals ranging from International Journal of Music Education, Ethnomusicology, Jazz Education Journal and Musical Times to Rock and Rap Confidential and Rolling Stone. Articles examine the full spectrum of subjects and all aspects of music, including music education, performance, ethnomusicology, musical theatre, theory, popular music forms and composition.
All of these databases are available in our A-Z Resource List. Whatever your research focus, the Campus Library faculty and staff are ready to assist you! If you need any help with your particular research or want to know of other databases related to any of these topics, just Ask Us! iueref@iue.edu