Happy Times #4, Margaret A.
May is a good time to celebrate Spring (no matter how delayed or sporadic!) and also to celebrate Older Americans.  The 2019 theme for Older Americans Month is "Connect, Create, Contribute" and it encourages older adults and their communities to:
Connect with friends, family, and services that support participation.
Create by engaging in activities that promote learning, health, and personal enrichment.
Contribute time, talent, and life experience to benefit others.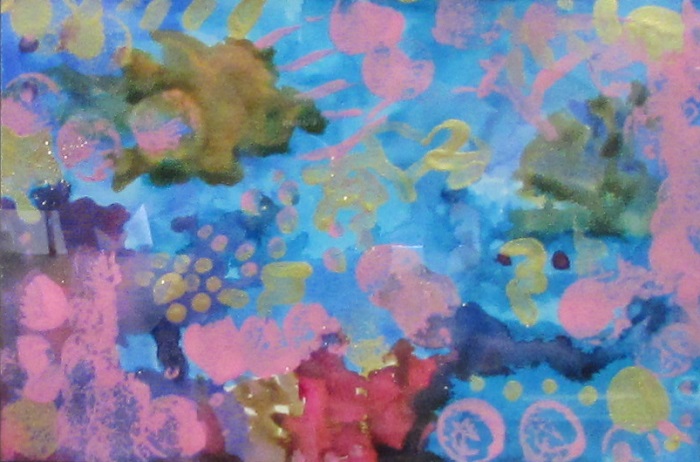 Happy Birthday to Me, Esther W.
For five years, IU East has been involved in the spirit of Connect, Create, Contribute, through our partnership with Friends Fellowship Community (FFC) for the Opening Minds through Art (OMA) program. We are pleased to announce that throughout June the Campus Library will exhibit art created by the OMA artists. To support the OMA program, artists' works are available for sale.
Small frames are $25 and large frames are $30.  You can contact Friends Fellowship Community directly to arrange for purchase:
Melissa Baxter, Director of Life Enhancement​
765-962-6540 ext. 488 mabaxter@ffcinc.org
or
Theresa Goss, Assistant Director of Life Enhancement
765-962-6540  ext. 466 tgoss@ffcinc.org
Stop by anytime in June, Mon-Fri., from 8 a.m. – 5 p.m., to view this inspired, and inspiring art! If you are interested in participating in the OMA program, please contact Ann Tobin in the IU East Center for Service Learning: iueastsl@iue.edu
The Beach, Margaret P.