Sexual assault can be an uncomfortable topic for many to approach and talk about, even for those who haven't experienced sexual assault first hand. Documentaries and films can be an informative and insightful way to explore the topic of sexual assault, but visual reenactments and first-person accounts of such experiences can be difficult for anyone, especially survivors. These films can be bleak; showcasing ingrained rape culture among various institutions and communities, the struggles of obtaining justice or evidence, and even the reality of facing backlash, retaliation, or bullying over reporting these instances. However, these films can also highlight the strength and resilience of survivors and provide helpful information on how to spot the signs of sexual harassment and assault, how to better support victims and survivors, as well as ways to cope, heal, and find help.
The IU East Campus Library provides streaming access to several documentary films, spanning different decades, countries, and age groups, that address this difficult, but very important, topic. These films may be triggering, so please view with caution.
The Invisible War (2012)
Casualties of war rage beyond the battlefield. As ranks of women in the American military swell, so do incidents of rape. An estimated 30 percent of servicewomen and at least 1 percent of servicemen are sexually assaulted during their enlistment, not by the enemy, but at the hands of fellow soldiers. With stark clarity and escalating revelations, The Invisible War exposes a rape epidemic in the armed forces, investigating the institutions that perpetuate it as well as its profound personal and social consequences.
Linked in our A-Z List:http://iue.libguides.com/A-ZList/I
From Victim to Survivor (1980)
Three survivors of sexual assault, two women and one man, relate their experience and its impact on their lives.
India: A Dangerous Place to be a Woman (2013)
British Asian journalist Radha Bedi travels to India to uncover the reality of life for young women there, six months after a medical student was brutally gang-raped on board a bus in the capital Delhi in December 2012 and later died of her injuries. The story made international headlines and shocked the world, but was this an isolated incident? Horrified by the attack, 28-year-old Radha returns to a country she's visited many times to explore the problems woman and girls face in India. Over the course of the documentary, she learns about current attitudes of female members of society, meeting young girls and women who bravely share their personal experiences of harassment and violence.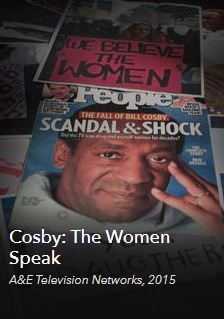 In this provocative one-hour special A&E offers never-before-seen intimate interviews with more than a dozen of Bill Cosby's accusers. First-hand accounts from the women themselves help examine the allegations, decade by decade to reveal new information regarding the downfall of one of the most respected entertainers in American history, as well as providing new insight into the case.
Dating Rites: Gang Rape on Campus (1993)
This documentary on gang rape and acquaintance rape is a compelling view of what is happening on college campuses. According to the Pennsylvania Coalition Against Rape, up to 80% of all rapes are acquaintance rapes, yet victims of rapes by strangers are ten times more likely to report their attack to police. Dating Rites includes an interview with gang-rape survivor Meg Davis, who tells how the attack still affects her life, even eight years later. We also hear from a convicted rapist, who gives compelling and disturbing insights into the psyche of the perpetrator. Included in the program is an eight-minute re-enactment illustrating how a gang rape develops. The viewer will see, through the perspective of both men and women, how a party can turn into a tragedy. The documentary also calls upon professionals: rape crisis counselors, psychologists, and sociologists.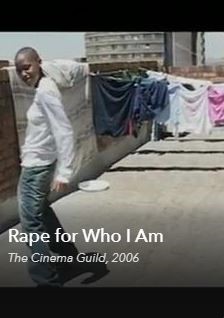 This powerful documentary offers a fascinating and moving insight into the lives of South Africa's black lesbians who, raped because of their sexuality, refuse to become victims. Set in Johannesburg and its surrounding townships, the film interweaves the experiences of four women, victims of rape, as they prepare for an annual Gay Pride celebration. With courage and a remarkable resilience, they describe the immense prejudices they have had to endure in their townships. They share the disturbing details of their attacks, and discuss how this horrible crime, intended to teach them to "act like women", exposes them to sexually transmitted diseases such as AIDS, and often goes ignored by the authorities. These four courageous women – Keba, Bathini, Mary, and Buhle – also discuss how they have embraced their identity since their attacks and decided to publicly speak out against this hate crime.
#MeToo, Now What? (2019) – PBS Series
This 5-episode series tackles the #MeToo movement. Executive editor and host Zainab Salbi goes beyond the headlines about sexual harassment to ask how we got here and how we move forward. Beyond the sensational headlines, #METOO, NOW WHAT? examines many of the factors that enable sexual harassment to endure in the workplace, despite the laws that are supposed to prevent it from happening. We look at how popular culture, pay inequity, gender discrimination, and the intersecting issues of race and class, affect the way society views women. We also explore how men can be engaged in this discussion, how some men are rethinking masculinity, and, ultimately, how we might begin to chart a path forward. Episode titles are listed as: 1) The Reckoning, 2) The Accuser and the Accused, 3) Masculinity in Crisis, 4) The Culture of Complicity, 5) Is the Patriarchy on Its Way Out?
Other Films and Shows to Consider
For those with access to Netflix, some popular films/series available on the platform that feature sexual assault, harassment, or trauma are as follows:
You (2018)
Dramatic series. A dangerously charming, intensely obsessive young man goes to extreme measures to insert himself into the lives of those he is transfixed by.
Surviving R Kelly (2019)
In this documentary series on the tangled history of allegations against musician R. Kelly, women give detailed accounts of sexual and mental abuse.
Audrie and Daisy (2016)
In this wrenching documentary, two teens are sexually assaulted by boys they considered friends, humiliated online and harassed by their communities.
13 Reasons Why (2017)
Dramatic Series. The series revolves around a seventeen-year-old high school student Clay Jensen and his deceased friend Hannah Baker, who takes her own life after having to face a culture of gossip, bullying and sexual assault at her high school and a lack of support from her friends, her family and her school. A box of cassette tapes recorded by Hannah in the weeks preceding her suicide detail why she chose to end her life.
Unbelievable (2019)
Dramatic series inspired by true events. After a young woman is accused of lying about a rape, two female detectives investigate a spate of eerily similar attacks.
The Perks of Being a Wallflower (2012)
Feature film. A shy freshman struggling with depression deals with his best friend's suicide and his first love in this engaging coming-of-age tale.
Other Recommendations
Two other films to consider are The Hunting Ground (2015) and I Am Evidence (2018). If you would like access to these for an IU East class, please contact librarian Beth South eabrockm@iue.edu
The Hunting Ground is a documentary film about the incidence of sexual assault on college campuses in the United States and the reported failure of college administrations to deal with it adequately. This film is available to rent or buy on Amazon Prime or Youtube.
I Am Evidence tells the story of four survivors whose rape kits went untested for years, following them as they navigate their way through the criminal justice system and learn that so often, the system is broken. The film reveals the historic nature of the way we treat the crime of sexual assault in this country, and the positive effects that occur when perpetrators are held accountable and survivors are given an opportunity for healing and justice. This film is available to stream on HBO Go and Hulu with subscription and available to rent or buy from Amazon Prime.
All of the films and series featured in this blog can be triggering and upsetting. If you are coping with sexual assault or struggling with any mental health issues, please contact The Center for Health Promotion. Counseling services are available with IU East's Director of Behavioral Health Jennifer Claypoole.
Throughout the month of April, the campus will be hosting a series of virtual events as a way to spread awareness about sexual assault. The IU East Campus Library urges you to participate virtually in these endeavors.
All month long: #IUE30DaysofSAAM
Respond to Instagram posts regarding Sexual Assault Awareness Month. Students with an IU East Crimson Card will be entered into a drawing for a $50 Crimson Card credit
Wednesday, April 15, 12:00-12:30: Empowerment Yoga
Participate in a two-way yoga flow meant to empower you. Access via Zoom: iu.zoom.us/j/801524941
Wednesday, April 29: Denim Day
Wear your jeans proudly to dispel myths about sexual assault, share online with #IUEDenimDay and tag @IUEastTitleIX
IU East is dedicated to ensuring the safety of all its students. If you have any questions or concerns about sexual assault on campus, contact IU East Deputy Title IX Coordinator Tracy Amyx, or access IU resources at the campus Title IX page, or at Stop Sexual Violence. Also, every Monday in April, check out the IU East Campus Library blog for more informational resources on sexual assault. If you would like assistance locating reliable information resources, you are welcome to Ask Us iueref@iue.edu.