Interested in fascinating facts, reliable resources, and delightful databases? Then be sure to "like" us on the IU East Campus Library Facebook page. We provide updates on library resources and services, as well as special feature days of Wednesday Wisdom, Thinking Thursday, and Fake News Friday. If you haven't already, head on over to the IU East Campus Library Facebook page and LIKE us! If you have not visited the Facebook page lately, here are some highlights of databases from our A-Z Index and various libguides.
Education
Taking a class in Education? Check out the Education in Videos database. This reliable resource has more than 1,650 hours of videos that provide the opportunity to observe behaviors that define effective teaching styles. Included are demonstrations, lectures, documentaries, and primary-source footage of students and teachers in actual classrooms.
Did you know that IU has one of the world's largest educational film and video collections containing over 130,000 items? Or that the Indiana School of the Sky radio program originally started as students performing 15-minute programs intended for children ages 4-8? The Media Collections Online open-access database houses IU's audio and video collections where you can view home movies such as the 1964-'65 New York World's Fair or listen to Indiana School of the Sky broadcastings.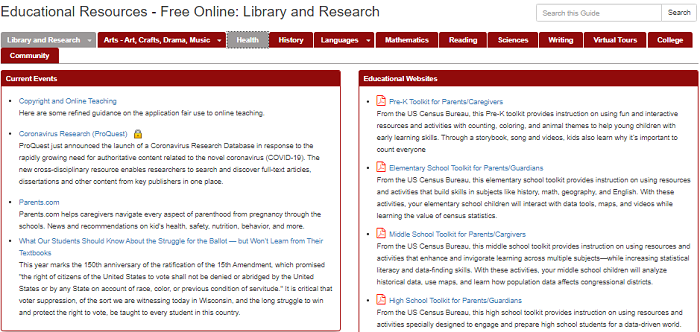 For most students, the way they received their education changed halfway through the spring semester. The Educational Resources Free Online libguide (ERFO) provides free online resources for students of all ages, from primary and secondary school to college. Several databases have offered free access through, and even past June 30 and here are just a select few.
Book Guides, Activities & Lessons (multi-level by grades, curricular areas, genres, and cultural areas), Interviews with the Author, and Book Readings are just some of the wonderful resources you can find when searching the Teaching Books database. Teaching Books serves the pre-K-12 school community and their families by connecting more deeply with books.

Want to catch up on some genealogical research and locate that newspaper mentioning an ancestor in another country? Want to read the original newspaper from the General Evening Post in London dated December 21, 1776? GOOD NEWS! From now until mid-June, you can explore the large collection of more than 7 million newspapers spanning over 400 years in the Newspaper Archives database.
Health
It is important to keep up with your health and the IU East Campus Library has databases that can help stay up-to-date with the latest articles on health, not just physical, but also mental.
Since 1949, May has been recognized as Mental Health Awareness Month. Now, more than ever, it is important to raise awareness of mental health, and you can learn more by checking out the database PsycINFO. PsycINFO contains journal articles, book chapters, books, and dissertations dating as far back as the 1800s.
Are you interested in the latest academic articles about COVID-19? Check out the Coronavirus Research Database. This continuously updated database houses thousands of open-access articles from leading publishers as well as current research from pre-print repositories. The Coronavirus Research Database will grow and evolve as more is learned about the pandemic.
Also in May we celebrate National Hospitals Week and National Nurses Day. Two great databases focused on the health industry are Health Source: Nursing/Academic Edition database and Wiley Online Library database. The Health Source: Nursing/Academic Edition has nearly 550 scholarly full-text journals available for many medical disciplines and the Wiley Online Library database allows you to explore the history (and future) of hospitals through the 4 million-plus articles available.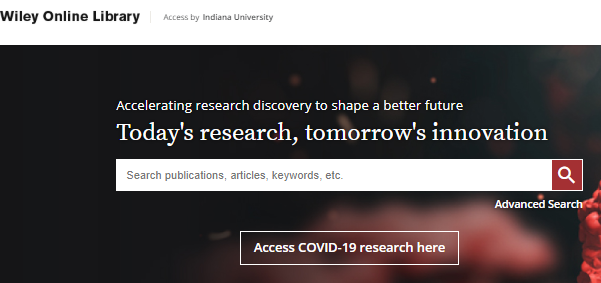 History
Are you a history buff? The IU East Campus Library has several great resources to let your inner historian come through. In the Women in the National Archives database, you can search through original documents, such as this police report, covering the women's suffrage campaign in Britain from 1903-28, and the granting of women's suffrage in colonial territories from 1930-62. One news article headline stated "Suffragettes – Meetings at London Pavilion Music Hall, Piccadilly, 29th July, 1913″ alerting to the fact that the militant section of the Suffragette Societies had been holding weekly Monday meetings for the past two years.
In the Women and Social Movements, International – 1840 to Present database, you will see how women's social movements shaped much of the events and attitudes that have defined modern life through the writings of women activist, their personal letters and diaries and proceeding of conferences at which pivotal decisions were made. One collection you will find is that of Lawyer, Feminist, Judge, and Political Activist Dorothy Kenyon Papers, 1850-1998, and her work on abortion rights, minority legal rights; the Equal Rights Amendment, and civil rights.
Why not take a tour of the history of America's landscape through the lens of a Context IIA camera? The Charles W. Cushman Photograph Collection contains 14,500 Kodachrome color slides spanning the years 1938-1969. From the Lambert Gardens in Portland, Oregon to the Steel Mills at the mouth of Calumet River in Chicago, on down to the Pancoast Hotel in Miami Beach, Florida, the Charles W. Cushman Photograph Collection brings to life Americas past.
Uncover the inspiring voices of Native-Americans, African Americans, Women, the LGBT community, and other traditionally underrepresented groups in American History by checking out the March of Time database. The March of Time database has over 440 videos that allow you to discover the rare and previously unpublished American History content.
Poetry
Did you know that April was designated as National Poetry Month, by the Academy of American Poets in 1996? Celebrate by reading a poem! You can choose from 40,000 poems in the American Poetry 1600-1900 database, representing more than 200 poets, spanning from Colonial times to the early twentieth century. You will find Keats, Killigrew, and Kipling along with more than 160,000 poems by 1,250 poets in the English Poetry 600-1900 database. In Twentieth Century American Poetry 1901-2000 database, you will find Angelou, Plath, Moore, and many more! Perhaps poetry is not for you, but you love a good fiction story. Well check out the Early American Fiction 1789-1875 database. Here you will find full-text access to over 800 first editions of American Novels and Short stories. You can explore both well-known authors and discover some you may not yet know!
These are just a few of the topics featured on the IU East Campus Library Facebook page. Interested in learning more? ASK US! at iueref@iue.edu.