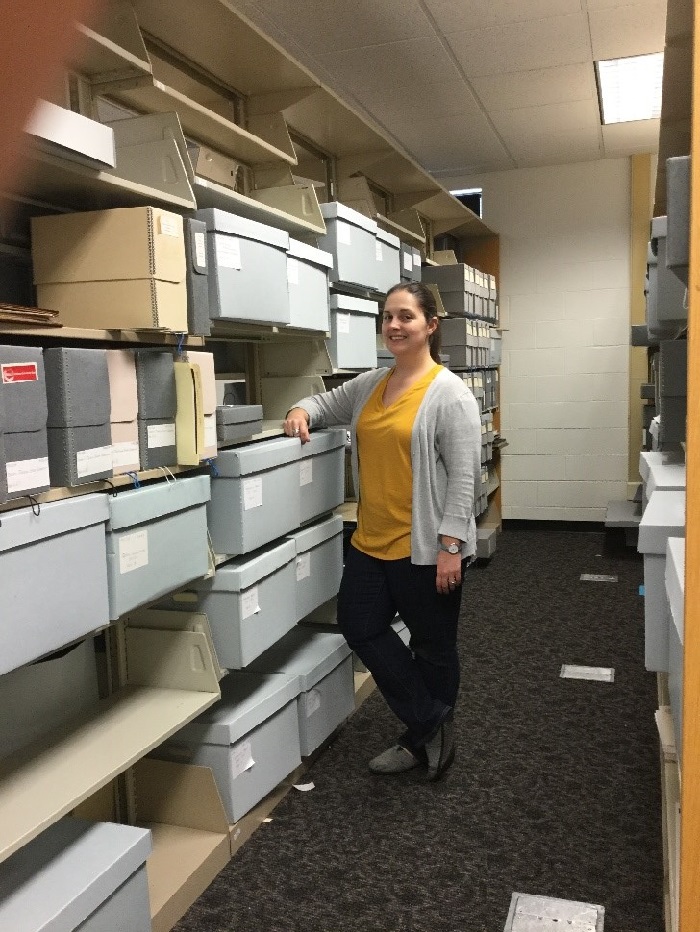 October is American Archives Month and Wednesday, October 7th is #AskAnArchivist Day. To celebrate, here is a list of popular and common questions IU East Archivist Beth South is asked about the Indiana University East Archives.
What is the IU East Archives?
The mission of the Indiana University East Campus Archives is to collect, organize, preserve, and provide access to print and electronic resources that document the history and continuing activities of Indiana University East faculty, staff, students, alumni and benefactors. With our collecting focused specifically on the IU East organization, the IU East Campus Archives is known as an institutional repository.
What is the oldest item in your collection?
Not exactly our oldest collection (more on that later), but the oldest item/collection in the archives that relates to IU East is our 1947 course bulletin from the Bulletin Collection (1947-2005). This collection started in 1947 when we were known as the Earlham College-Indiana University Extension Center. The information in these bulletins varied over the years, but usually contained a schedule of events and classes, a listing of the areas of study that the university offered, course cost, and other information for the school year and the campus. It is a great resource to consult when researching the history of our academic programs and a neat peak at what classes were popular and once taught in years past. All of our bulletins have been digitized and are available to view on the IU East Archives Libguide as well as at AIM @ IU (IU's Archive of Institutional Memory).
What is the most popular collection?
The Student Newspaper Collection is our most requested collection. IU East's first student newspaper, The Pioneer Press, started in 1973. This collection is our most popular as it contains student-created articles focusing on the Indiana University East student experience. It provides a lot of information on campus life: student clubs, campus events, athletics, faculty and staff bios, and documents the trials and tribulations that the IU East Campus has faced over the years. Our student newspapers have been digitized and while not all of them are available online just yet, we do have two of the papers ready to view online: The Howler (2008-2017) and The Pioneer (1995-1996).
What is the largest item in your archives?
The largest item we have stored in the archives is IU East's very own Rufus the Red Wolf! We have the very first Rufus mascot costume. When the costume was retired, it was donated to us from Campus Life in 2018. The costume is of normal size, but Rufus' head is quite large and an extra-large archival costume box was needed to place it in. Due to mascot rules, we cannot show you a picture of the costume with no one inside, but we are happy to share a lovely photo of our dear Rufus when embodied with school spirit. You can also learn how we came to be the Red Wolves by viewing Inside IU East Sports-Red Wolves 10th Anniversary.
What is your least known collection?
Our least known collections (there are three and they go together) is unusual as it is not specifically related to IU East at all. It is also technically our oldest collection in that a few of the items contained in these collections go back to the 19th century. These are the Edward H. Harris Collection (1899-1937), Luther M. Feeger Collection (1935-1974), and the Rudolph Gaar Leeds Collection (1886-1960). These collections were donated to the IU East Archives back in 1980 as part of a gift to Indiana University East from the Harris Foundation, The Gannett Foundation, and the Palladium-Item. Leeds was the owner and publisher of the Palladium-Item and Feeger and Harris both worked for him as journalists and editors. So, this is a great research collection for those interested in local history and journalism.
What is your most diverse collection?
Our most diverse collections are our local oral history collections, which have all been digitized. There are several of them: LGBTQ+ Oral Histories, Women's Oral Histories, African American Oral Histories, the IU Bicentennial Oral Histories, and some local history surrounding Starr-Gennett and the 1967 Richmond Explosion. These collections span decades and were conducted by either staff, faculty, or students at IU East for various research and coursework.
What is your most currently relevant collection?
The Paul Kriese Collections (Collections one, two, and three) are our most relevant collections to view for those interested in our current political climate. Dr. Paul Kriese is an emeritus professor of Political Science at Indiana University East where he had taught from 1983-2015. He has published many articles and books addressing such topics as race, religion, and social justice in politics and government. Dr. Kriese has also served on many political committees, including the election committee for President Barack Obama. His most recent donation are the audio interviews he collected for his latest research, which can be found in IU's Media Collections Online, African American Men in Indiana.
Where can I find the Archives?
The physical location of the archives is in Hayes Hall 101. You need an appointment to visit the archives. You can see what collections the Archives has as well as what we have digitized by viewing the IU East Campus Archives Libguide. If you are needing to see anything in the archives that is not available online or have any questions related to the archives, please contact Beth South at eabrockm@iue.edu.