IU East was lucky enough to enjoy the teaching expertise of award winning poet Mary Fell for over 30 years. Earlier this year, she donated a number of books, documents and ephemera to the IU East Campus Archives. And today, we'll take a brief look at some of the treasures we've seen so far. Let's go!
Class planning materials
A working writer relies on a number of tools to complete their work. Whether it's the perfectly balanced pen, the elegantly laid cream wove paper or the delicious cup of coffee in the best coffee mug, each writer assembles their tools to begin the day's task of crafting words. Mary consulted a number of books related to poetry in order to provide exercises to students, and her most accessed volumes are marked up, dogeared and covered with tape flags -signs of good books used well. These books, and others in her collection, give viewers an inside look at her teaching process. In addition to books, there are also copies of writing exercises in her own handwriting and her conference publications related to teaching. She was dedicated to the success of her students during her tenure at IU East, and her collection reflects the care she took in creating engaging lessons for her aspiring writers.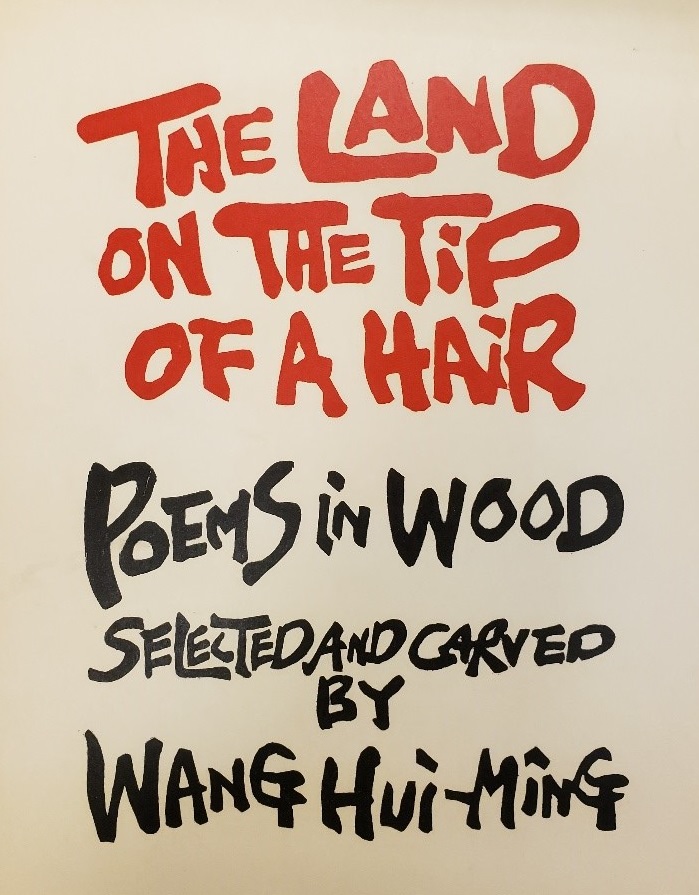 Unique books
Along with more traditional monographs, which dominate the book collection, there are a few unique items which are worth examining as something separate from the text they contain. Two books, both carved by Wang Hui-Ming, a Massachusetts-based artist, are beautiful examples of modern woodblock printing technology. These books include the poems of English-language authors such as Robert Bly and Robert Francis cut directly into blocks of wood and imprinted on paper. While these are lithographic copies, they nevertheless demonstrate the elegance that woodblock printing can offer to poetry. Other interesting binding and printing techniques include a Russian/English bilingual printing of Robert Rozhdestvensky, some hand-sewn pamphlets and Mary's own stapled pamphlet of her poem "The Triangle Fire," which was printed in a limited edition of 200.
Ephemera
In addition to commercially printed books, there are a handful of rare items with a distinctive personal touch in the collection. Mary read her poetry at a number of different venues in Indiana and Massachusetts, from a book launch party held at professor emeritus George Blakey's home to a reading at the Worcester (MA) Poetry Festival. Many of her readings were advertised with flyers which also reprint a select few of her poems, some of which took the form of illustrated broadsides. Along with posters, there are also a small number of personal letters from well-known authors such as Etheridge Knight, Christopher Gilbert and Sharon Olds. Last, her ephemera also encompass photographs, correspondence with other artists and writers and her first IU East faculty ID card.
Writings
Mary's collection encompasses much of her printed work, such as copies of her book The Persistence of Memory (in both printed and draft form, along with related correspondence) and her poems in the Worcester Review, Arts Indiana and other publications. Among some of the less well-known publications in the collection is "The Little Apple", where she published some of her first essays and where she also served as poetry editor for eight issues. This newsprint journal ran for only a brief time in the late 1970s and early 1980s, yet it chronicles an important moment in her development as an author as she was in the middle of her MFA program at University of Massachusetts.
Autographs
As an active writer, Mary often worked with or knew some of the most celebrated poets of the late 20th century. A surprising number of the books in the collection are signed by the author and dedicated to Mary, including books by major American poets Galway Kinnell, former US Poet Laureate Stanley Kunitz and former Indiana University professor Yusel Komunyakaa. Other books were signed by associates and students who had gone on to publish their own works. The books in this part of the collection range from hardback books from mainstream publishers to self-published paperbacks, all given to her with care.
The Mary Fell Collection at the IU East Campus Archives will prove beneficial to students of American poetry and those interested in gaining insight into the processes of a working author. However, it also chronicles a life of art and creativity, marked with curiosity and a fine sense of kindness that permeates her own work. Although the collection is still in the process of being examined and cataloged, we offer this brief look to give an idea of what materials are being added to the archives.
Interested in reading or writing poetry?  Want to know about how other authors write their works?  Curious about why poetry is different from prose?  Intrigued by what archives do?  Ask Us!  iueref@iue.edu or click this button: