The IU East Campus Library welcomes you all back to campus! For some, it may have been over a year since you have been on campus and for others, this will be your first time. In case you haven't had the chance to visit the library yet or just need a refresher on all the great services and resources your Campus Library has to offer, here is a Who to know and where to go guide. Also, if you haven't yet, please "like" the IU East Campus Library Facebook for weekly highlights of databases found in our A-Z index and updates on services and events. The library also has a multidisciplinary guide to research, to help you master research in any subject area.
Meet Matt Dilworth
Do you need help with in-depth research for an upcoming paper? Ask us a question 24/7. Have questions about Interlibrary Loan, Reference Coordinator Matt can help you with setting up an account and processing your requests. Matt is also the liaison for the School of Business and Economics. For quick questions or in-depth research, in person or online, Matt is here for you!
Meet KT Lowe
Assistant Librarian KT provides in-person and remote library instruction sessions. She is the liaison for the School of Humanities and Social Sciences, School of Social Work, Office of Student Success, and adjunct faculty. Ask KT anything about information literacy, fake news, and multiple ways to achieve academic success!
Meet Beth South
Assistant Librarian Beth handles all e-resources, including databases, e-books, streaming media, and Open Education Resources. Do you have questions related to the history of IU East? Beth is also the Campus Archivist and can help with integrating primary resources into your course.
Meet Sue McFadden
If you are interested in publishing your research in the IU Scholarly repository or the Journal of Student Research and IUScholarWorks – East Student Collection, Associate Librarian Sue can facilitate that process. Sue is also the liaison for the School of Natural Science and Mathematics and the School of Nursing and Health Sciences.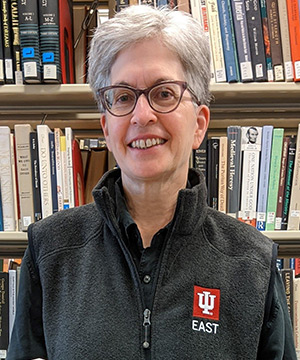 Meet Frances Yates
Library Director Frances is the primary contact for collaboration with the Library and our community partners. If you have an idea for a special project to engage IU East students with local K-12 youth, we would love to connect with you! Frances is also the liaison for the School of Education.
Meet Jesse Whitton
Jesse is the Coordinator of User Services. Need to check out material, reserve library space for a class, or place a textbook/DVD on reserve for your students? Email liblearn@iue.edu, or visit Jesse at the Circulation Desk and he'll work to meet your needs.
Anything for your academic needs, your Campus Library is here for you. ASK US! at iueref@iue.edu or simply click this button: