The U.S. Senate passed a resolution in 2001 to establish October as Family History Month.
In the FamilySearch blog "Why We Need Family History Now More Than Ever" Rachel Coleman explains that "Knowing our cultural background and where we came from can help us develop a strong sense of who we really are. The way we relate to our family stories and create our own narratives about ourselves helps establish our unique, authentic core identity." She also discusses the benefits of family history sharing in terms of connection, resilience, selflessness and self-worth. FamilySearch.org is the largest free genealogical database in the world, containing more than 3 billion names. In addition to research, they offer an option to create a free family tree, which can be constructed, stored and shared via their site. The Family History Library, sponsored by FamilySearch in collaboration with genealogical research partner libraries, is the largest genealogical library in the world. They are actively digitizing family histories, local histories, and other collections to make text and images searchable and available free online. More than 200 countries and 100 languages are included in the digitized documents. Many types of genealogically significant records are included, such as censuses, births, marriages, deaths, probate, church, immigration.A FamilySearch account is needed to access digitized records but it is free.
A variety of free, reliable resources to search online for information about family members and fill in details for a family history are available through libraries and history-focused organizations.
Tips for Locating Genealogical Resources in the Library of Congress Online Catalog includes how to Search the Library's Catalog and Locating Digitized Materials. Users can access land ownership maps, learn tips for researching African American family histories, and locate coats of arms, ship passenger lists, pension records, and state or local records such as births, deaths, marriages, and wills.
Chronicling America is a digital collection of newspapers from around the country dating from 1789-1963. It is searchable by names of family members, known places where they lived or worked, and organizations they belonged to.
Ask-a-Librarian is a service to help locate local history and genealogy resources. While the librarians cannot do the research for you, they will provide useful tips to do an effective search.
Maps in the Library's Geography and Map division are digitized in high-resolution and may provide context and insight into details of family members' lives when they immigrated to America.
U.S. Census Bureau records are a valuable resource for researching family history. The National Archives and Records Administration maintains records of the Federal Population Census since 1790, and every ten years since. Because of a 72-year restriction on access to the Census, the most recent year available is 1940. The 1950 Census will be released in April 2022. It is often most helpful to begin with the most current census and work backwards as a strategy for locating people in earlier generations.
These indexes cover more than 1.2 million An expanded Indiana Digital Archives, now titled the Research Indiana Indexes, includes more than 1.36 million records. Spanning more than 200 years, users can search court, military and naturalization records, and digital images. Users can search the names of Hoosiers indexed in the Indiana State Archives' historic collection, spanning more than two hundred years. Search categories include Military, Courts, Land Office, Naturalizations, Department of Correction, Veterans' Graves, Secretary of State, Children, Education, Professions, Coroner, Auditor of State, and Attorney General.
The Research Indiana Indexes includes everything previously available on the Indiana Digital Archives, like Civil War and other military records, original land sales, and prison records. In addition, the site has over 100,000 additions, including the naturalization records of 66 Indiana counties, Foster Parent Applications (1877 to 1933), and Supreme Court and Dissolved Corporations indexes.All indexes are created by the Indiana State Archives' volunteers. To become a volunteer, email arc@iara.in.gov,
The IHS Online Connections articles feature ancestor records arranged by county, name indexes, family records such as bibles and reunion meeting minutes, and more. For family research assistance at the county level, Indiana has volunteer county historians who are knowledgeable about local history. County historical societies have varied amounts and types of information online and typically have enthusiastic volunteers eager to help with family research questions.
The Indiana State Library Genealogy Collection is one of the largest collections of family history information in the Midwest. It includes family histories, indexes to records, cemetery transcriptions, military pension information, and more. The emphasis of the collection is on Indiana and bordering states, as well as eastern and southern states. Webinars and videos to access online include topics such as From Cradle to Coffin: Vital Records Research in Indiana, Genealogy 101, Immigration and Naturalization, Using Newspapers in Your Research, and Wills and Probates. The genealogy staff welcomes questions.
Indiana residents searching family history can access several news and history resources via INSPIRE, a collection of databases funded by the State. This includes historic newspapers in the Hoosier State Chronicles; digitized books, manuscripts, and photos in the Indiana Memory digital collections; and Indiana Legacy genealogy records of births, marriages, deaths, divorces, and more.
The Genealogy Center at the Allen County Public Library (Fort Wayne, Indiana) is active in several initiatives to make significant public domain portions of its book collection available online via the Internet Archive. Maintaining records from regional to worldwide, their staff specializes in genealogy and is available to help with family history research, via phone 260-421-1225 or email Genealogy@ACPL.Info. They also offer online webinars, on topics such as interpreting DNA results, working with unusual single records, and using family recipes for family history.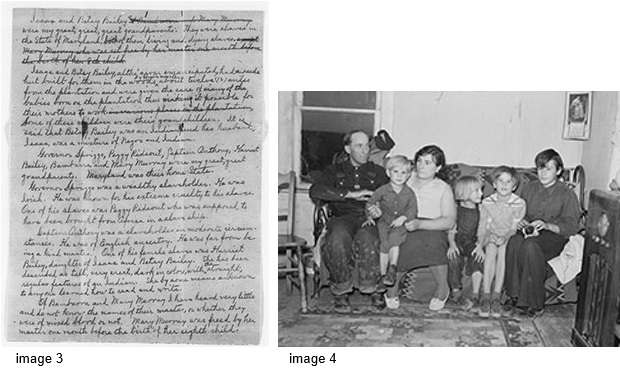 Ideas for celebrating family history month are featured in Family Tree magazine. It is a subscription-based periodical but includes useful free content to access. Suggestions include:
For more information about researching family history, Ask Us! iueref@iue.edu or click here:
Image credits: These and many others are accessible for free use from The Library of Congress
image 1 – Family record. Before the war and since the war / Krebs Lithographing Company, Cincinnati.
image 2 – [Six generations] / R.W. Harrison, Selma, Ala.
image 3 – Genealogical Notes from the Frederick Douglass Papers
image 4 – Family of James Strunk, farmer. Works for WPA…Wheelock, North Dakota