Celebrate Black History Month by remembering and reflecting on the many people and groups who participated in the fight for civil rights. These Black Archives and Special Collections offer a range of materials from primary source documents to newspaper archives and podcasts.
The New York Public Radio Archives & Preservation celebrates Black History Month by assembling a collection of their leading preservation work, series, and sonic artifacts focusing on African American history. Listen to opera singer Marian Anderson, who in 1955 was the First African American to sing at the Metropolitan Opera House, addresses some of the prejudice and segregation she experienced. One instance that Anderson recounts is when she received the Key to the City from the Atlantic City's mayor only to be denied a hotel room in that same town. Hear Congresswoman Shirley Chisholm's speech declaring her intent to run for President in 1972. Shirley Chisholm was the first African American Congresswoman and the first African American from a major political party to run for president.
When the 19th amendment was ratified on August 18, 1920, the fight did not stop there for Black women. Their movement for gender and racial equality continues to this day. Mary Church Terrell, Frances Ellen Watkins Harper, Anna Julia Cooper, and Ida B. Well-Barnett all had significant leadership roles leading up to and during the U.S. Women's Suffrage Movement. The Black Women's Suffrage Digital Collection provides access to materials documenting the roles and experiences of Black Women during the Women's Suffrage Movement. Also documented are other social causes of the 19th and early 20th centuries such as anti-slavery, anti-lynching, education reform, civil rights, and the racism that was experienced within the Suffrage Movement itself.
The New York Public library celebrates Black History Month with an array of digital resources from puzzles and videos to digital exhibits. The Treasures: Voices in Black History online exhibit depicts experiences and stories that were lived and told by Black writers, artists, activists, and more. The New York Public Library's Music Division celebrated Black History Month by creating jigsaw puzzles of Black musicians from their digital collections. https://www.jigsawplanet.com/NYPLMusic.
The Schomburg Center for Research in Black Culture is devoted to the research, preservation, and exhibition of materials focused on African Americans, African Diaspora, and African experiences. This year marked the Schomburg Center's 10th anniversary of the Black Comic Book Festival where animators, illustrators, independent publishers, writers, and more came together to celebrate Black comic books and graphic novels. Join authors Dr. Rebecca Hall, Ytasha Womack, Newton Lilavois, and more as they discussed "telling our history through comic books," "creating powerful women in comics," "S.T.E.M. in comics," and more.
Founded in August 2021 by Maya Cade, the Black Film Archive is a continually updated register of Black films made from 1915 to 1979, presented in cultural context. It is currently accessible through free streaming services, searchable by decades or genres. These films "have something significant to say about the Black experience; speak to Black audiences; and/or have a Black star, writer, producer, or director" (Black Film Archive, 2021). Check out these six personal highlights that Cade noted "look at Black fame across time."
The Brothers in Arms: The Gladstone Afro-American Military Collection spans from 1773 to 1987, with a large part of the collection dating from the Civil War Period. This collection consists of correspondences, enlistment and discharge papers, miscellaneous military reports. It documents African Americans in military service, especially the United States Corps d'Afrique and the United States Colored Troops. Within this collection is the Gladstone Collection of African American Photographs containing over 300 images depicting African Americans and related military and social history. From the Gilder Lehrman Institute of American History, the Black Lives in Founding Era collection contains images and transcriptions of more than 200 books, magazines, and newspapers that depict what life was like for some Black Americans in the 18th century. Items within this collection are largely in reference to enslaved people and the institution of slavery.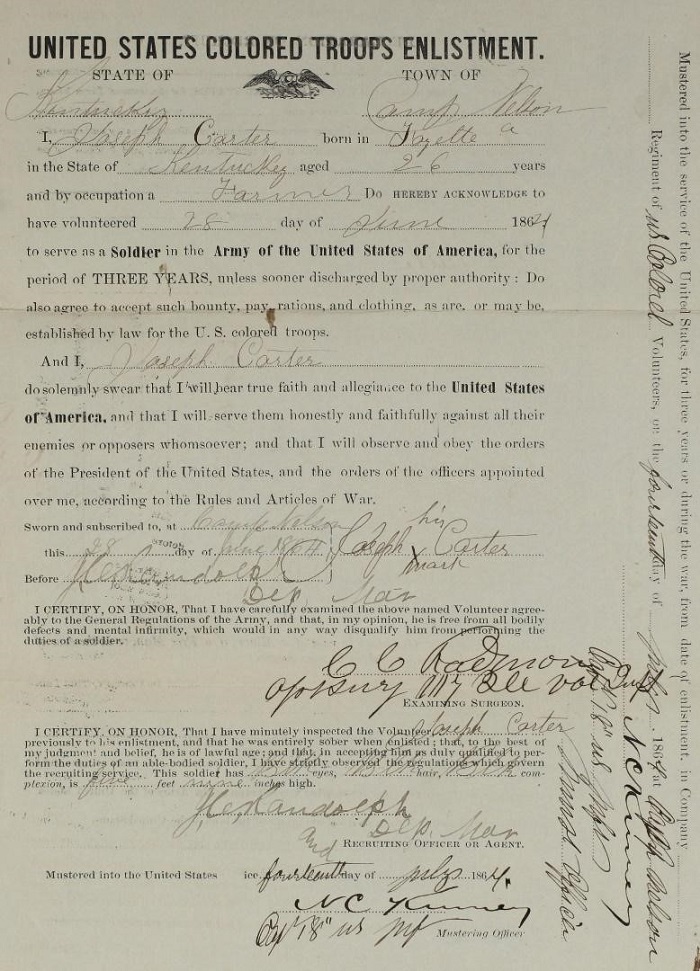 Want to preserve history by transcribing historical documents? The Smithsonian's Digital Volunteer Transcription Center is currently working on the Freedman's Bureau Records collection that contains the names of hundreds of thousands of formerly enslaved individuals and Southern white refugees. The National Archives Catalog is looking for help to transcribe the United States Colored Troops Records which contains military service records of Union volunteer soldiers who served during the American Civil War.
The IU East Campus Library has several resources for exploring African American history including Black Economic Empowerment: the National Negro Business League, Black Thought and Culture, Fannie Lou Hamer: Papers of a Civil rights Activist, Political Activist, and Woman, and more. Find reliable research assistance … Ask us! iueref@iue.edu or click here