Spring break is this week, and with spring comes a renewed energy to appreciate nature, as flowers and trees begin to bloom and butterflies, bees, and other insects return to our gardens. Warmer weather also signals a return to many events and days dedicated to protecting Earth's natural resources and spreading awareness of the effects of climate change. To learn more about climate change and ways you can get involved in sustainability efforts, here are a few events happening at IU East and around the world that you can take part in.
Acknowledge and Participate in Earth Hour
March 26th 8:30pm-9:30pm
Earth Hour is a global movement that was started by the World Wildlife Fund for Nature (WWF) in March 2007. The movement first took place in Sydney, Australia, and over the years the whole world came to adopt the practice of Earth Hour.
If you haven't done it before, it's worth doing. All you do is turn off your electric devices/lights from 8:30pm-9:30pm on Saturday, March 26th. That's it! A very simple way to engage in a movement, showing that while it may not seem like a lot, doing it all together can make an impact.
To learn more about climate change, nature loss, and biodiversity, Earth Hour also has excellent resources on these topics and more.
World-Wide Climate Teach-In Day
March 30th
All teachers are encouraged to participate in World-Wide Climate Teach-In Day, to engage in conversations about the climate crisis and possible solutions as they relate to your courses. The news around climate change can often be dire and depressing, leading to hopelessness and the feeling that nothing you do will help. However, having local conversations within the classroom and the community focused on sustainable actions and small solutions can open the path to creating real change. The IU East Office of Sustainability hopes faculty will incorporate more sustainability and climate-related topics into their classes, even if it is just one day during the semester. Students can also encourage these discussions in their classes. The Worldwide Teach-In is a project of the Graduate Programs in Sustainability at Bard College in New York, USA, in conjunction with partners worldwide and the Open Society University Network.
Participate in the IU East Campus Library's World of Wonders Community Read
The IU East Campus Library has been awarded a Community Read grant from Indiana Humanities to participate in a statewide read of Aimee Nezhukumatathil's World of Wonders: In Praise of Fireflies, Whale Sharks, and Other Astonishments as part of the One State/One Story program. This is an initiative designed by Indiana Humanities, in partnership with the Indiana State Library and Indiana Center for the Book, to encourage Hoosiers to read and engage with a book as part of a statewide conversation, and to examine our relationship with the natural world.
"Nezhukumatathil's collection of short essays explores the wonders of nature which defy easy depiction. She takes us through her past experiences and shares guidance she's received from our world's fierce and funny creatures" (Indiana Humanities). "The axolotl teaches us to smile, even in the face of unkindness; the touch-me-not plant shows us how to shake off unwanted advances; the narwhal demonstrates how to survive in hostile environments. Even in the strange and the unlovely, Nezhukumatathil finds beauty and kinship. For it is this way with wonder – it requires that we are curious enough to look past the distractions in order to fully appreciate the world's gifts" (Milkweed Editions). These lessons are further supplemented by beautiful illustrations by Fumi Mini Nakamura throughout the book.
The Campus Library is hosting three events to support this program:
The World of Wonders Virtual Scavenger Hunt
April 1st-22nd
This virtual scavenger hunt is in support of the One State/One Story community read of "World of Wonders: In Praise of Fireflies, Whale Sharks, and Other Astonishments" by Aimee Nezhukumatathil as well to kick-off Earth Month on April 1st. This scavenger hunt is open to all in the IU East Community. The first 10 participants to complete the hunt will receive a copy of the book "World of Wonders" and some IU East swag. All participants will enter a drawing for prizes. Additionally, all student participants will be in a drawing for a $50 book scholarship. The scavenger hunt will officially end at 11:59 pm on April 22nd.
Participate at https://tinyurl.com/WoWHunt2022 (Submissions started by before April 1st won't count!)
Presentation: "Gas and Oil, Dirt and Ghosts: Landscape and Histories of Extraction in Indiana" by Ava Tomasula y Garcia
April 20th 6 pm, Facebook Live
This talk travels through points of time in Indiana's environmental history to illustrate how narratives about landscape are never just about landscape. We visit the gas boom of the 1880s; the Calumet region's steel industry up through the 1980s; "deindustrialization" and toxic vulture industries; and fossil fuel "reindustrialization" today. We trace geological upheavals that remake landscape and social reality, from the 1830s genocide of Native Americans that cleared land, to the Great Migration of Black Americans, to Central American immigration for work in "sacrifice zones" in Indiana today. Logics of resource extraction show ideas about what is "natural," what belongs where, and to whom.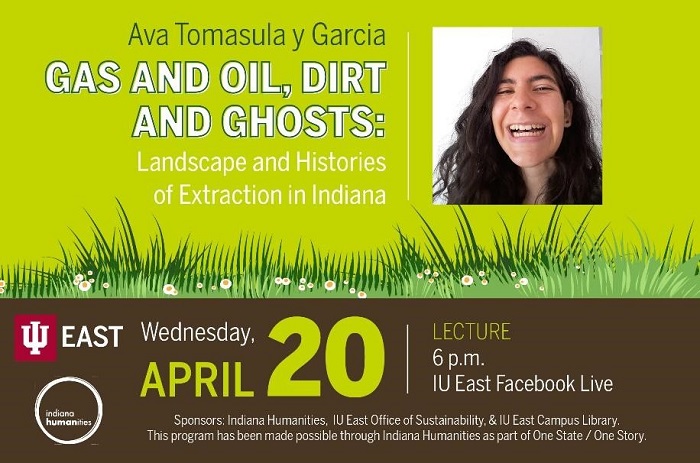 Ava Tomasula y Garcia grew up in northern Indiana, where much of her family has been for four generations. She spent the last two years as an immigration and labor organizer at Centro de Trabajadores Unidos, a worker's center in the industrial region spanning Southeast Chicago and the Calumet region of Indiana. She recently returned to school in the Anthropology PhD program at Columbia University in NYC, where she learns about illness related to industrial toxicity. She also writes nonfiction and fiction.
Book Discussion on World of Wonders
Fall 2022
Two IU East classes this fall will be participating in the community read of "World of Wonders." There will be a book discussion in October of 2022. Interested in participating? Free copies of the book are available at the front service desk of the Campus Library in Hayes Hall. IU East students, staff, and faculty can also access the e-text version of the book at https://tinyurl.com/WoWatIUE.
World of Wonders at Morrisson-Reeves Library and Cope Environmental Center
March-August
Morrisson-Reeves Library and Cope Environmental Center have partnered to participate in Indiana Humanities statewide read of Aimee Nezhukumatathil's World of Wonders: In Praise of Fireflies, Whale Sharks, and Other Astonishments as well. They also have several events scheduled for this spring and summer, including nature writing, a naturalist-led hike, and guest speaker Scott Hess, a professor of English from Earlham College, who will present "How We Imagine Climate Change and Why It Matters."
To learn more about sustainability efforts at IU East or related resources available at the Campus Library, you can check out our Sustainability Resources at IU East libguide for links to databases, e-books, streaming videos, and more. Any questions?  You can also Ask Us! at iueref@iue.edu or click this button: