Promise Indiana is a program that "helps families and communities to support youth through saving for future education, participating in college and career activities in the classroom, and experiencing a college campus." As an active participant in the program, Randolph County Schools provides students with experiences that help them visualize a future that includes education after high school graduation. This year IU East welcomed more than 200 third grade students to explore the campus.
More than 30 faculty, staff and college students, along with more than a dozen campus volunteers, facilitated 52 interactive learning sessions with content ranging from anatomy and accounting to teamwork and solving mysteries.
The Library team collaborates with campus partners to help create dynamic learning experiences. We've highlighted several of the unique and interesting classes in a Promise Indiana Randolph County resource guide and share some highlights here. Thank you to the many talented members of the IU East community who participated!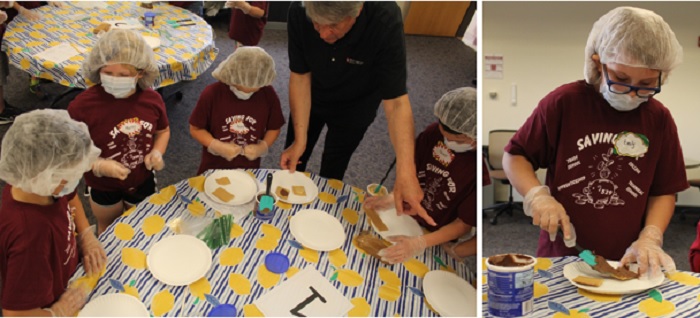 Business and Economicsfaculty Gregg Woodruff designed a creative (and tasty!) cost-accounting activity with the use of S'mores.
Cup-stacking teamwork challenges, movement games, and more were among the learning fun provided by faculty from the School of Education.
Humanities and Social Science Communications faculty Andrea Quenette promoted critical thinking with "Live! On the Scene!" reporting, where students produced a filmed news program. Criminal Justice faculty David Kim and Mengie Parker also focused on critical thinking, as students became detectives to investigate crime scenes.
Mathematics faculty Kim Schwartzel, Ramesh Karki, and Sagara Dewasurendra offered math fun through fractions bingo and a Tic Tac Know subtraction toss game.
Nursing and Health Sciences faculty Shelly Burns and Gloria Dixon used simulations and germ demonstrations to enhance student knowledge about health.
Science faculty had students actively engaged with a variety of science. Brian Olson shared anatomy knowledge, Jill Schweitzer designed a role-playing game for students to experience matter, and Wes Tobin and Roberta Roswell made physics fun. Science lab coordinator Heatherlynn Barrett, with Jenilee Braun and science students Sarai Sosa Perez, Elliott Tuttle, Grace Cull, and Anthony Spaeth facilitated experiments for students to gain hands-on experience as scientists
Staff shared their skills in technology, media, and languages. Joy Maupin, Lucas Starritt, and Aimee Thompson wowed students with virtual reality at the IQ Wall. Stephen Bahnweg and Katlyn Ballard gave students opportunities for "Lights, Camera, Action!" as they took on a variety of operations and production roles in the WCTV studio. Chief Diversity Officer Yemi Mahoney helped students learn Spanish as they played bingo.
Deputy chancellor Michelle Malott, along with all these staff, enthusiastically volunteered to be caring adults and positive role models for these Promise Indiana youth. Thank you!
Amy Jarecki – dean of students
Ann Tobin – center for service learning
Beth South – library
Frances Yates – library
Jesse Whitton – library
Lee Ann Goeke – center for service learning
Maggie Furr – office of student success
Matt Dilworth – library
Rylie Gearhart – service student
Sean Yates – community
Susie Bennison – service student